We Deliver high-quality
industrial paints


and coating solutions in India
Paint production processes have seen radical changes over the last decade in India. It has graduated from a heavily manual and batch oriented process to a more flexible and semi-continuous process. New age production relies on the judicious use of horizontal sand mills and customized dispersers. These offer higher output per square area while the dispersers offer batch size and changeover flexibility.
Pearl Coating has transitioned many of its processes to keep pace with advanced practices. We have shifted production of many industrial paints to master batches and batching entirely on our dispersers. It has resulted in 3x faster turnaround time and response to customer enquiries.
Our Machineries for Processing Industrial Paints & Coatings
Bead Mills are designed for dispersion processing, where solid particles (pigments, fillers) are reduced in size and finely dispersed and wetted out in a liquid phase. Small ceramic, glass, or metal beads are agitated inside the mill chamber to aid particle size reduction through impact and energy input. Post-dispersion the mill base is pumped to the letdown tank for completion.
These machines are the workhorses for manufacturing industrial paints and coatings. This is the workhorse machine for manufacturing industrial paints.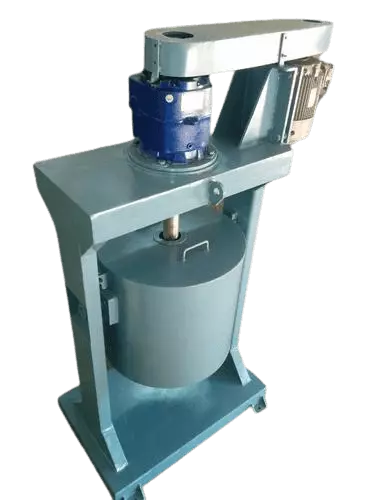 Attritors are suitable for preparation of viscous slurries such as those of a High build primer. Large quantities of extenders can be fed to attritors to produce primers, High build epoxies and certain alkyd enamels as well. The material and the media are agitated by the shaft with cross arms, rotating at low rpms. Consequently, the heat produced is relatively lower compared to sand mills. Heat sensitive pigments, hence, can be used with attritors.
Single shaft dissolvers also known as high speed dissolvers / dispersers are designed for premixing, dispersion and end-mixing applications. They are typically used in low-medium viscosity applications. These are used to mix solids into a liquid. They provide good homogenizing and dispersion at a low consumption of power. Specialized blades impart shear force that breaks and separates particles to achieve a uniform distribution.
These machines are indispensable while manufacturing industrial paints and coatings. This is specifically useful while manufacturing Automotive industrial paints & lacquer
Horizontal Mills are high energy / high efficiency mills designed for dispersion and fine wet grinding. These are suitable for use in Chemical, agrochemical, pigments, paints, coatings, inks and mineral grinding processes. These mills provided much higher efficiency than sandmills, attritors, vertical bead mills. They can handle slightly higher viscosity materials. They are designed as a continuous process machine which results in higher grinding efficiency and superior process control.
They are available in different shell volumes, grinding disc MOC. The grinding chamber is made of high abrasion resistance materials which gives durability and reduced maintenance of the machines. Very easy to operate
Planetary mixer
for putty
Hybrid planetary mixers are utilized for creating fine dispersions in viscous mixtures, typically within the viscosity range of 100,000 to 2 million cP. Intense mixing is applied to the product by constantly advancing a high speed disperser and a low speed stirrer into the batch. Solids are quickly incorporated into the viscous bulk material and agglomerates are dispersed regardless of product flow characteristics.
The sigma mixer is one of the most popular used for mixing and kneading high viscosity materials. It belongs to the family of double arm kneader mixers. All double arm kneader mixers are equipped with two mixing blades placed in a W-shaped horizontal trough. The close clearances produce very high shearing action thereby reducing any large particles. These mixers produce a consistent particle size distribution without the need for additional high speed choppers.
Homogenous mixing is achieved within 10 to 30 minutes. Mixing homogeneity upto 99% and better can be achieved using the double arm kneader mixers.These mixers and their variants (double arm kneader mixer extruders) are capable of handling material with viscosities as high as 10 million centipoises. The sigma mixer is useful in producing small batches of thick industrial paints.